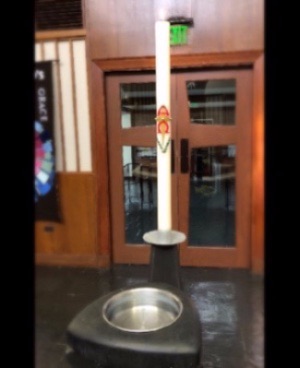 Wednesday Weekly Words
April 15, 2020
This time of isolation can exacerbate grief, and bring the pain of past loss to our present. Abby Embry, the Chaplaincy Director at Hospice House and Support Care in Williamsburg is offering an 8-week bereavement curriculum. Her class will encompass grief that comes with death, and the loss of expectations and identity in this pandemic. Chaplain Abby will post related blogs on Mondays. Beginning next Tuesday at 2 p.m., she will host a free and open to the public discussion about the blog via Zoom. See the Hospice House FaceBook page, or click on https://williamsburghospice.org/newsletters/hospice-house-blog/
Abby also offers one-on-one bereavement support. Email her at bereavement@williamsburghospice.org. She writes, "I will do what I can to help meet the needs, especially in the gaps of care for those without the ability to pay, or without a counselor or therapist. Although, I am not a therapist, I can make some recommendations."
Our next book study is in the works! More is to be revealed, but know that I am looking forward to this interesting and challenging study!
Our generous congregation wants to ensure that those who have lost their income due to the Coronavirus receive some financial assistance. Please call me if you need help!
It is important that those in our congregation know that they remain part of our church family even though we are not physically together. Please call or e-mail people in our congregation. What a terrific opportunity to introduce yourself to someone you don't know! Do not be afraid because all St. Stephen people are great! Just say, "I am from St. Stephen, and Jesus calls us to care for each other. How are you?"
We are blessed! He is Risen! He is Risen indeed! Alleluia!
Pastor Cheryl Griffin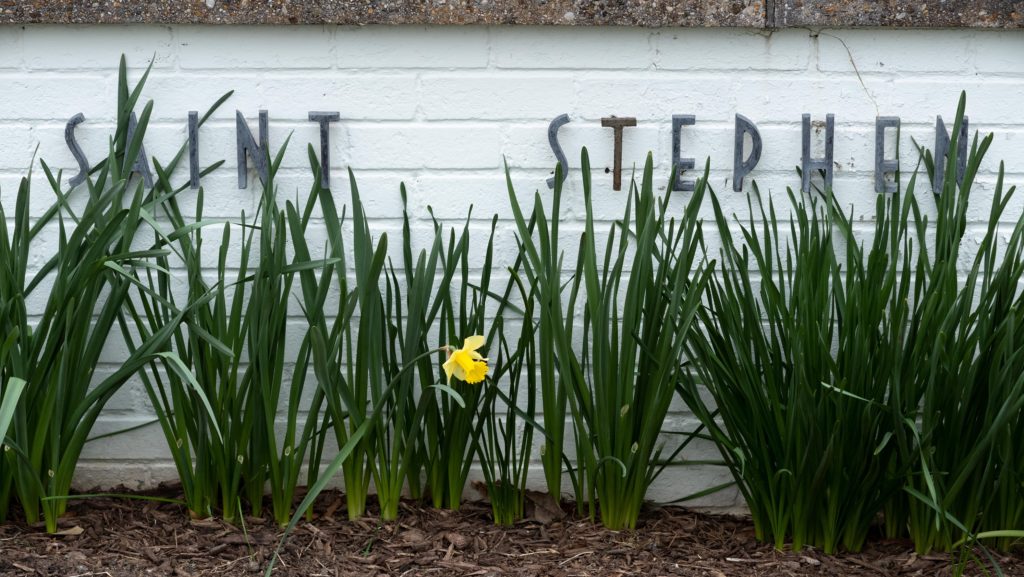 Wednesday Weekly Words
8 April 2020
Thank you for continuing to reach out to each other! Phone calls, e-mails, cards, and prayers are important, especially now. Your care for one another helps us to know that we are connected in meaningful ways. Your care for each other is living out the Gospel!
Thank you for adhering to the guidelines of safe distancing and sanitation. This is how we care for our neighbors, and for ourselves. I am not aware of any new cases of COVID-19 among our members, and those who contracted it continue to improve.
For the few who enter our building, please use hand sanitizer before and after you leave. Bring disinfecting wipes and wipe down any surfaces you touch, including the keypad to get in, light switches, and door knobs.
Some of our members have asked for donations of elastic to help them with making face masks. If you have any that you can spare, please put it in Sandy Peterkin's mailbox at church.
Thank you for continuing your contributions! If you would like to make them electronically, please contact Linda Vonderheide, who will skillfully lead you through the process.
Our gatherings are using the computer application Zoom.
Here are only a few of the activities that are happening:
Our Social Ministries Coordinating Committee, including our Motel Ministry, is supporting (in safe ways) our local homeless population and our local feeding programs.
Stan York and Heidi Flatin are continuing to teach Affirmation of Baptism.
Jeane Moore is gathering parents and elementary school children for faith formation.
David Hindman has been leading our Bonhoeffer book study. Next Monday will be the final sessions.
Our Preschool teachers continue to engage children and families by phone and by computer. Teachers are scheduling drive-through visits and handing out materials to use at home. (Take a look at our St. Stephen Lutheran Preschool FaceBook Page!)
Our Congregation Council is meeting by e-mail and Zoom.
Our Call Committee continues to meet as a committee and to interview candidates. After Holy Week, we will do second interviews with two candidates, and an initial interview with one other.
Blessings on your Holy Week! Information regarding worship services will be forthcoming.
Please stay in touch! I enjoy hearing from you!
~Pastor Cheryl Griffin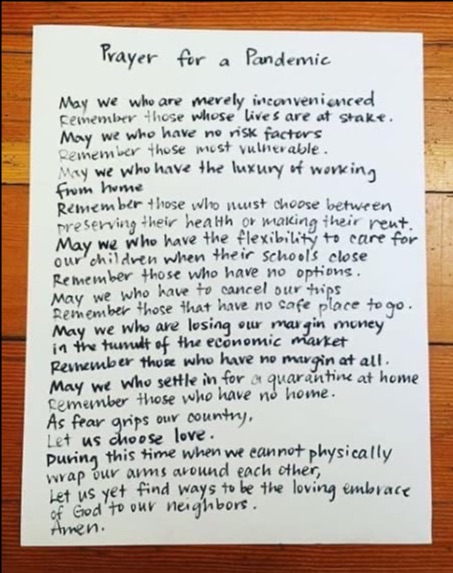 Blessings on your Holy Week! Information regarding worship services will be forthcoming.

Please stay in touch! I enjoy hearing from you!

~Pastor Cheryl Griffin
Click here for a list of churches with online services
Our Virginia Synod Bishop, Bob Humphrey, has recommended that our churches close through Wednesday, April 1. Our Operations Team has decided to close our building to all additional meetings and activities until that time. This includes Yoga Class, Bonhoeffer Book Study, AA and Al-Anon meetings. Preschool administration is monitoring the situation with the Preschool Committee based on guidance from the WJCC School District and Virginia State health officials.
An 8:30 worshiper, who last attended services on March 1, has tested positive for the virus. There is a 14-day incubation period for the virus, and if you have no symptoms, there is no reason to be tested.
James City County has information and links to the World Health Organization and the Center for Disease Control. You can access their web site by clicking on this link: https://jamescitycountyva.gov/CivicAlerts.aspx?AID=3736.
My plan is to have an on-line presence in which I will offer scripture readings, reflections and prayers. You will be given a link to that when I have posted something.
Be prudent! Stay home if you can. Wash your hands! Be sensitive to others who may be feeling anxious or isolated. Let's keep in touch by phone and e-mail with each other. This is a sabbath time, a time to slow down and rest in God's grace. We pray that cautious actions now will help limit the spread of the virus.
~ Pastor Cheryl Griffin
Wednesday Weekly Words
25 March 2020
We've come this far by faith, leaning on the Lord!
Trusting in God's Holy Word, he's never failed us yet.
Oh, can't turn around, we've come this far by faith.
Here's a rundown on those things that you may not know!
Our Preschool Teachers continue to work with their students in innovative and safe ways! Parents are sending pictures of their children doing the activities given to them. Check out our St. Stephen Lutheran Preschool FaceBook page!
Our Call Committee has interviewed two candidates, and has one more scheduled for Thursday evening.
Our Bonhoeffer Book Study is resuming through ZOOM.
We have a new website! Visit www.saintstephenlutheran.net.
Our Congregation Council, and our Finance, Preschool, Social Ministry Coordinating Committees continue to meet either by ZOOM or through e-mail.
Karen, Sandy and I are preparing for Holy Week. We will maintain our physical distance, and celebrate in new ways. Information will be coming!
We are blessed!
We hunger to gather and to worship together. By caring for ourselves, we are caring for others. We are living out the Gospel in this time of physical separation, and our faith is carrying us through!
I always hesitate to highlight particular people and ministries, because the truth is, you all are to be thanked for the ways you live out your faith. Remember to keep praying! Prayer sustains us in this challenging time.
Thank you for continuing to financially and spiritually support St. Stephen Lutheran!
Thank you for caring for one another!
Thank you to Stan York and Nancy Carter for their care for all things technological! And especially for their patience with me!
Thank you to Sandy Peterkin and Karen Ives for their passion for our ministries and tireless efforts!
Thank you to all who continue to process contributions, write checks, and care for our finances.
Thank you to those who continue to care for our building and property.
Thank you to our Preschool Teachers for their commitment and care to our Preschool families!
Keep Well!
You can find lectionary readings here, https://elca.org/lectionary. We are in Year A.
Stick to a schedule.
Go for a walk, play in your garden, sit on your porch, wave at your neighbors!
Write in your gratitude journal daily!
Call members of our congregation and send cards to them! Call people from church you don't know and say, "I don't know you, but we are members of St. Stephen Lutheran, too! I just want to see how you are doing!"
Limit the time you watch the news!
Remember to laugh.
~In Christ's love for you, my sisters and brothers,
Pastor Griffin