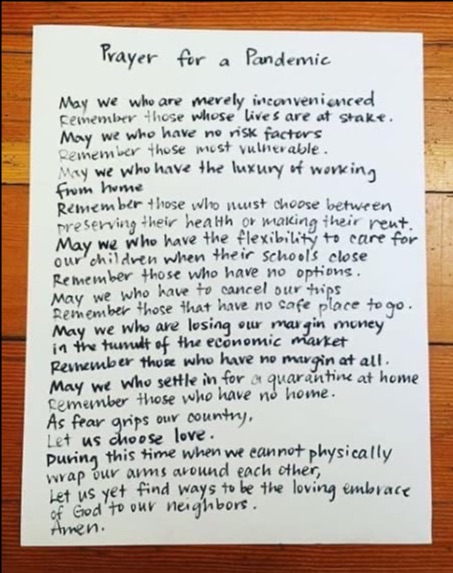 Click here for a list of churches with online services
Our Virginia Synod Bishop, Bob Humphrey, has recommended that our churches close through Wednesday, April 1. Our Operations Team has decided to close our building to all additional meetings and activities until that time. This includes Yoga Class, Bonhoeffer Book Study, AA and Al-Anon meetings. Preschool administration is monitoring the situation with the Preschool Committee based on guidance from the WJCC School District and Virginia State health officials.
An 8:30 worshiper, who last attended services on March 1, has tested positive for the virus. There is a 14-day incubation period for the virus, and if you have no symptoms, there is no reason to be tested.
James City County has information and links to the World Health Organization and the Center for Disease Control. You can access their web site by clicking on this link: https://jamescitycountyva.gov/CivicAlerts.aspx?AID=3736.
My plan is to have an on-line presence in which I will offer scripture readings, reflections and prayers. You will be given a link to that when I have posted something.
Be prudent! Stay home if you can. Wash your hands! Be sensitive to others who may be feeling anxious or isolated. Let's keep in touch by phone and e-mail with each other. This is a sabbath time, a time to slow down and rest in God's grace. We pray that cautious actions now will help limit the spread of the virus.
~ Pastor Cheryl Griffin
Wednesday Weekly Words
25 March 2020
We've come this far by faith, leaning on the Lord!
Trusting in God's Holy Word, he's never failed us yet.
Oh, can't turn around, we've come this far by faith.
Here's a rundown on those things that you may not know!
Our Preschool Teachers continue to work with their students in innovative and safe ways! Parents are sending pictures of their children doing the activities given to them. Check out our St. Stephen Lutheran Preschool FaceBook page!
Our Call Committee has interviewed two candidates, and has one more scheduled for Thursday evening.
Our Bonhoeffer Book Study is resuming through ZOOM.
We have a new website! Visit www.saintstephenlutheran.net.
Our Congregation Council, and our Finance, Preschool, Social Ministry Coordinating Committees continue to meet either by ZOOM or through e-mail.
Karen, Sandy and I are preparing for Holy Week. We will maintain our physical distance, and celebrate in new ways. Information will be coming!
We are blessed!
We hunger to gather and to worship together. By caring for ourselves, we are caring for others. We are living out the Gospel in this time of physical separation, and our faith is carrying us through!
I always hesitate to highlight particular people and ministries, because the truth is, you all are to be thanked for the ways you live out your faith. Remember to keep praying! Prayer sustains us in this challenging time.
Thank you for continuing to financially and spiritually support St. Stephen Lutheran!
Thank you for caring for one another!
Thank you to Stan York and Nancy Carter for their care for all things technological! And especially for their patience with me!
Thank you to Sandy Peterkin and Karen Ives for their passion for our ministries and tireless efforts!
Thank you to all who continue to process contributions, write checks, and care for our finances.
Thank you to those who continue to care for our building and property.
Thank you to our Preschool Teachers for their commitment and care to our Preschool families!
Keep Well!
You can find lectionary readings here, https://elca.org/lectionary. We are in Year A.
Stick to a schedule.
Go for a walk, play in your garden, sit on your porch, wave at your neighbors!
Write in your gratitude journal daily!
Call members of our congregation and send cards to them! Call people from church you don't know and say, "I don't know you, but we are members of St. Stephen Lutheran, too! I just want to see how you are doing!"
Limit the time you watch the news!
Remember to laugh.
~In Christ's love for you, my sisters and brothers,
Pastor Griffin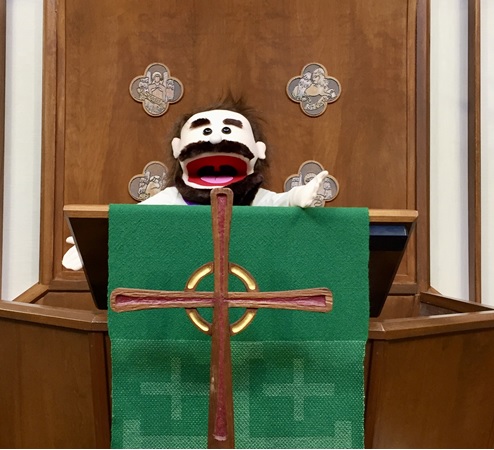 Weekly Words February 23rd
You are invited to come this Thursday night to our Stephen Ministry Program! Our speaker will be Marcella Williams of Bucktrout Funeral Home. We will meet downstairs at 7:00 p.m. in the Library.
Pizza and Games! This Friday evening at 5:30 p.m.! It's all about food, fellowship and fun!
Speaking of food, fellowship and fun, it's time again for our annual PJs & Pancake Supper!!! Our Preschool families and our Church families are invited to come on Tuesday, February 25 from 5 p.m. to 7 p.m.!
The first day of Lent is Ash Wednesday, February 26! Join us at 6 p.m. for a potluck supper, and at 7 p.m. for worship. The service focuses on our confession and repentance. We receive the sign cross on our foreheads. It is imposed using ashes as a reminder that we are but dust and cannot save ourselves. It is in the form of a cross to remind us of the One who saves us.
During these 40 days of Lent, we delve into what it means to be washed in the waters of baptism with God's love and forgiveness. To help you in your Lenten journey, Wondrous Love: Devotions for Lent 2020 booklets are available in the Gathering Space.
6:00 p.m. Soup Suppers on Wednesday evenings in Lent are in need of volunteers to provide soup and/or bread. The sign-up sheet is in the Gathering Space.
Blessings to you!
~Pastor Griffin